Holle Organic Nursing Tea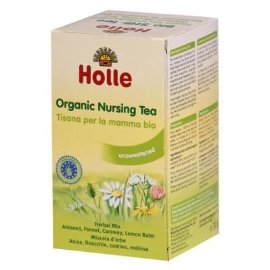 Holle Organic Nursing Tea
Item No. NURSING TEA
Get free shipping on this item when you spend $235.00 or more on Qualifying items offered by Beyond Organic Baby.
Offer Details
Here's how (restrictions apply).
Product Description
Organic Nursing Tea (6 x 20g bags). The herbal blend of aniseed, fennel, caraway, and lemon balm in Holle Organic Nursing Tea has been carefully chosen and is said to support milk production, especially towards the end of pregnancy. All ingredients come from certified organic agriculture and meet Holle's stringent quality standards. Holle Organic Nursing Tea should be taken towards the end of pregnancy and throughout breastfeeding. Holle recommends drinking 3-6 cups a day. The Holle company was created close to 80 years ago with the highest standards in mind and remains today the oldest organic baby food company.
All ingredients are from 100% organic agriculture
Unsweetened, Gluten free, no artifical colors, flavors or preservatives
Only logged in customers who have purchased this product may leave a review.
INGREDIENTS
Aniseed* 30%, fennel* 30%, caraway* 30%, lemon balm* 10%
*from organic biodynamic farming
PREPARATION
Pour approx. 200 ml of fresh, boiling water over tea bag and allow to infuse for 5-10 min. Remove tea bag and pour Holle Organic Baby Tea into a bottle. Allow to cool to approx. 37°C before feeding. Sweetening the tea is not necessary.